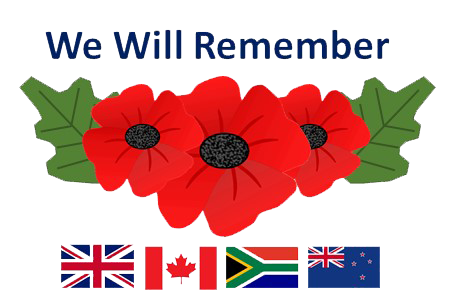 Welcome at the Foundation 'We Will Remember'
In the old city Harderwijk, the Netherlands, situated at the IJsselmeer, 45 young airmen lie buried on Oostergaarde Cemetery. All died while performing their duty serving with the Allied Air Forces between Wednesday 9th April 1941 and Wednesday 7th March 1945. Salvaged from the water, washed ashore or recovered from crashed aircraft on the land.
The cemetery is nearly one kilometre E from the city centre at Oosteinde 12, a turning off Newtonweg.
There are two locations with war graves, a west side with 31 graves and an east-side with 12 graves. The fallen men derived from the United Kingdom, Canada, New Zealand and South Africa.
THE FOUNDATION
Objective
The foundation 'We Will Remember' was founded Thursday 1st April 2021 and has as purpose to maintain the memory of allied airmen in the broadest sense of the word. The foundation will endeavour to accomplish this objective by organizing commemorations and education, taking care of publications and maintaining the network, on national and international terrain.
Chamber of Commerce number 82412588
Who is who
The management of the foundation consists of the following persons:
Ruud Slangen - chairman
Inge Jacobi-de Jong - secretary
Marieke van de Goor - treasurer
Ron Van Slooten - board member
Peter Knispel - board member
Desiree Loois-Mosterd - board member
The foundation is supported in different ways by:
West Veluwe/Flevoland Bond van Wapenbroeders
ECHOS Home Ermelo
Veiligheid en Vakmanschap Landstede Harderwijk
Wereldvlaggen.nl Harderwijk, Jon Deeves
Donations
The Foundation We Will Remember is totally depending on income of donors and incidental gifts. If you want to support us, you can do that by becoming a donor.
You can make a donation into our bank account:
NL05 ABNA 0106 7209 37 t.n.v. Stichting We Will Remember, Harderwijk.
Agenda
Important dates
Saterday 112th November Remembrance Day Oostergaarde
Saterday 24th december placing candles at Oostergaarde
Data passing away of the fallen and crash-data are mentioned on the calendar.
Oostergaarde Cemetery
There is a total of 5,884 identified airmen's remains from six Air Forces interred in 360 cemeteries in the Netherlands that died during World War Two; the youngest airman recorded was age 17 years of age and the oldest aged 52, the average age of those that died and identified being 24 years 40 days.

Oostergaarde Cemetery is located on the shore of the IJsselmeer (Zuiderzee), is 42 km NE of Utrecht and 45 km NW of Apeldoorn (Latitude: 52.34966, Longitude: 5.63832). The cemetery is nearly 1 km E of the centre of the town in Oosteinde 12, 3842 DR Harderwijk, a turning off Newtonweg. In the SE part of the cemetery are two plots containing the graves of airmen whose remains were recovered from IJsselmeer or from the surrounding countryside from 1941 onwards, the first airman recorded and laid to rest in the cemetery was Sgt (634099) Gordon Wilfred Brown RAF who rests in the British Plot 2. Grave 9, who died on Wednesday 9th April 1941, the last being F/O (J/87419) Elmer Adrian Oswald from No.406 Squadron RCAF who died on Wednesday 7th March 1945.

On analysis of the 42 identified airmen interred in Harderwijk Cemetery there were a total of 18 aircraft involved of which there were six types of aircraft covering 14 variants. (Mk's), 13 were shot down because of a night fighter attack, five, causal factors unknown The airmen served in four Air Forces in 14 Bomber Command Squadrons from six Bomber Groups and two airmen serving in Fighter Command Squadrons, one serving in No.11 Group and the other in No.11 Group Air Defence of Great Britain - No.147 Wing. Of those interred the average being 23 years 299 days.

Regarding the 42 airmen interred in the cemetery, only two had been awarded Gallantry Medals: F/O Ian Crawford Burns and F/Sgt Joseph Pass had both been awarded the Distinguished Flying Medal and both promulgated in the London Gazette.


Schematic overview graves

*Click on a name for more information.
Stories
Map showing the crash locations of the airmen that lie buried on Oostergaarde.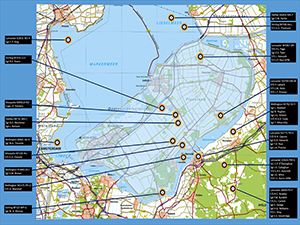 Click on the map for an enlargement.
Map courtesy Jan van Lohuizen.


MONUMENTS
In the vicinity of Harderwijk several monuments can be found. In the Flevopolder, the former Zuiderzee, marker posts are positioned at the crash locations.


Harderwijk, Zeepad.
Gps coordinate 52.34909, 5.61236


During the Second World War many Allied bombers flew over the Netherlands on their way to targets in Allied Europe. They preferred flying over open water because this was deemed safer with less chance of being hit by land based anti-aircraft fire.

The four-meter-high monument portraits an airplane that crashes into the water. It was placed in the Veluwemeer on Wednesday 18th April by a Chinook helicopter from the Royal Netherlands Air Force. The monument is an initiative of the Foundation Allied Monuments Harderwijk. A plaque reads 'Between 1941 and 1945, a total of 117 crew members of Allied aircraft lost their lives in or near Harderwijk, mostly in the Ijsselmeer - Design: Arend Kleinpaste' unveiled April18, 2012. (Rabobank Randmeren Stimulation Funds)


In the vicinity of Harderwijk 117 Allied airmen died during the Second World War. Among them were Americans, Australians, British, Canadians, South-Africans and New Zealanders that were recovered from the Zuiderzee or the mainland. A total of 45 of them lie buried in Harderwijk, some of the airmen are still missing.


Harderwijk, J.P. Heijelaan.
GPS coordinate 52.34714, 5.63915.

Monument for Lancaster Mk.III serial ED771 coded PO-E from No.467 Squadron RAAF.
A column made of corten steel with a plaque in black with golden text.
A QR code is fitted that leads to the story behind the crash.
The unveiling cermony took place in the presense 0f 13 relatives, Saterday 29th April 2023.
On the night of Friday 30th April 1943, Bomber Command operated a total of 317 sorties; 305 aircraft assigned to attack Essen.
Lancaster Mk.III, serial no. ED771, code PO-E, from 467 (Royal Air Force) Squadron, took off from RAF Bottesford at 00.22 hours on the morning of Saturday 1st May 1943. Captained by Flight Lieutenant Rex Ayrton Craigie, the crew reached the target area around 02.00 hours. While Air Bomber Pilot Officer John Phillips was getting ready to drop the bombs the aircraft was attacked by a German Focke-Wulf 190, night fighter. Both Air Gunners, Sergeant Tom Peat, tail gunner, and Sergeant Proctor opened fire. PO Phillips dropped the bombs but the Lancaster was hit by the German night fighter killing John Proctor and the Wireless Operator Sergeant George Edwards.
Tom Peat's turret was damaged, although he was not hit, and he could no longer operate it to the full extent of its arc of fire.
The FW 190 continued the attack and was joined by another night fighter coming up from below. A canister of incendiaries was hit and set on fire as was the recuperating oil pump, for the mid-upper turret, and its oil ignited. Navigator Flying Officer Roddy Capron and Sergeant Billy Fair were unable to extinguish the blaze which began to spread fore and aft. The four engines had not been hit and Flt.Lt. Craigie was still hopeful of being able to return back to England. The fire then reached the oxygen bottles which started to explode killing Roderick Capron who was standing close by. The bomb doors and the undercarriage collapsed to be followed by the main wing flaps becoming inactive.
The German fighters ceased their attack but Rex Craigie still had considerable difficulty in maintaining the airplane in level flight. He soon realized it would be better to abandon the aircraft and at 5000 ft. (1524m) he gave the order to bail out. As the damage to Tom Peat's turret prevented him from getting out easily he moved forward to bail out from the main entrance, on the starboard side.
Later, Tom was to be found dead, with his parachute unopened, and a large wound at the back of his head which was indicative of having hit the tail plane on his exit.
John Phillips, Billy Fair and Rex Craigie left the airplane from the forward exit position at 1100 ft. (335m). All three were captured in a barn near the cemetery and taken to a Prisoner of War camp.
Zaterdag (Saturday) 1st May 1943, 03:15 hours, Lancaster ED771 crashed in a field between the Verkeersweg and Kampweg, an agricultural area behind the cemetery. Part of the Kampweg is now known as J.P. Heijelaan.
Pilot
F/L
Rex Ayrton Craigie
Prisoner of War
Flight Engineer
Sgt
William Thomas Fair
Prisoner of War
Navigator
F/O
Roderick Haliley Capron
Aged 35
Bomb Aimer
P/O
Geoffrey John Phillips
Prisoner of War
Wireless Operator
Sgt
George Harold Edwards
Aged 22
Air Gunner
Sgt
Thomas Dunlop Peat
Aged 21
Air Gunner
Sgt
John Alston Proctor
Aged 20


Click on the link below to read to story of the last sortie of ED771.
THE LAST SORTIE OF ED771 by Neil Buchanan relative of Sgt Peat
Elspeet, Schaarweg.
Gps coordinate 52.27524, 5.76729

Monument for Lancaster Mk.III serial JB609 coded PH-P from No.12 Squadron RAF.
A polished bolder with text, the Canadian and the flag of the United Kingdom.
The bolder is surrounded by seven smaller boulders, representing the seven crew members.
The text reads:

ON THE WAY BACK FROM LEIPZIG, 20 FEBRUARY 1944, CRASHED HERE
HEREBY DIED
N.C. BOWKER
FLIGHT SGT
PILOT
21
F.W. BURDETT
SGT
FLIGHT-ENGINEER
21
A.L. CORLETT
FLIGHT SGT
NAVIGATOR
33
E. GEDGE
SGT
AIR-BOMBER
29
E.S. GOODRIDGE
SGT
AIR-GUNNER
21
J. MAY
PILOT OFF
AIR-GUNNER
21
H.G. WILLIAMS
SGT
WIRELESS-OPERATOR
22
THE POPULATION OF ELSPEET 19 APRIL 2008.
Lancaster JB609 was coming out of the direction of Apeldoorn and missed the Elspeet church tower before it crashed two and a halve kilometres in a meadow at Schaarweg.
The son of Sgt. Williams unveiling the memorial stone for the aircraft his father died in…..
Hulshorst, Schapendrift.
Gps coordinate 52.33151, 5.73415

Monument for Lancaster Mk.III serial ED626 coded PM-G from No.103 Squadron RAF.
It contains of a wooden cross surrounded by seven conifer trees.
On the plaque is written:
WAR MEMORY
SCHAPENDRIFT HULSHORST

In the early morning of 1st April 1943 the Lancaster was shot down by a night fighter of Twenthe airfield. On its way back from Emmerich to Elsham Wolds in England it crashed here at 07:20.
CREW
P/O Charles O'Donoghue
20 jr
RAF
Killed in action
F/Sgt James A. Callaghan
20 jr
RAF
Killed in action
Sgt Anthony H. Fry
21 jr
RAF
Killed in action
F/Sgt Eric R.V. Ashcroft
20 jr
RAF
Killed in action
Sgt John E. Winn
22 jr
RAF
Killed in action
Sgt Ian C. Burns
22 jr
RAF
Killed in action
Sgt Sefton Stafford
33 jr
RAF
Killed in action
Six crewmembers died and were buried at Oostergaarde Cemetery Harderwijk. Sgt Sefton Stafford survives but dies of wounds the same day in Amersfoort. He lies buried there at the General Cemetery.
On the wooden cross, a small copper plaque is placed:
SIX DEATH, ONE WOUNDED.
BRITISH
FELL HERE ON 1ST APRIL 1943.
SHOT DOWN WITH THEIR AIRPLANE.
MATTH. 6.9.14'
Doornspijk, Drostenweg.
Gps cordinate 52.41469, 5.78761
Monument for Wellington Mk.X serial HE702 coded EX-Y from No.199 Squadron RAF.
It consists of a propeller and a plaque.
On the plaque the Squadron badge with a fountain, two swords standing parallel, one up, one down. These swords symbolize the Squadron's expertise, mine-laying and bombing. The motto is: "Let Tyrants Tremble".
The names of the fallen airmen:
Leonard Waldorf
Ronald Hughes
John Guyer Wilson
Ronald Hermond Downes Cook
Tom Wharmby

They died in the early morning of 13th May 1943 during a bomb raid from Ingham to Duisburg.
Further the text: 'Into the dark night they flew and on to the glorious morn', also found on Sgt Wharmby's headstone.
The monument was revealed on 4th May 2004 in the presence of relatives.
Biddinghuizen, Aliekruikweg 30.
Gps coordinate 52.439395, 5.720348


Crash pole number 07 for the AVRO Lancaster Mk.II serial DS794 coded OW-W from No.426 (Thunderbird) Squadron RCAF.
It consists of a blue white metal pole with an orange bomber silhouette on top. A plaque is mounted with the following text:
In the night of 15th and 16th February 1944, on the returnflight of the target Berlin back to the homebase Linton-on-Ouse, AVRO Lancaster DS794, a four-engined bomber of the Canadian 427 Sqaudron, was shot down. Above the IJsselmeer, north west of Elburg, the airplane was hit at 22:38 by the fire of a german Nightfighter, piloted by the very experienced Oberfeldwebel Heinz Vinke. The Lancaster crashed in this vicinity, all crewmembers were killed.


Piloot
Pilot Officer
Basil William Pattle
Aged 23
Navigator
Pilot Officer
Peter Labach
Aged 22
Air Bomber
Flight Sergeant
Lyle Wilmot Hicks
Aged 23
Flight Engineer
Sergeant
Augustus Bryan Chester
Aged 25
WOP Air Gunner
Pilot Officer
Leslie Thomas Prosser
Aged 21
Air Gunner
Pilot Officer
William Kilworthy Murray Love
Aged 25
Air Gunner
Pilot Officer
Orville Wesley Hicks
Aged 20


Labach, Lyle Hicks and Prosser lie buried on the algemene begraafplaats in Harderwijk. Love lies buried on the algemene begraafplaats in Elburg. Pattle, Chester and Orville Hicks are missing and their names are mentioned on the monument for missing men of the Commonwealth Air Forces in Runnymede, England. Chester was British, Orville Hicks and Love Americans.
Biddinghuizen, Mosselweg 8.
Gps coordinate 52.428490, 5.68932


Crash pole number 09 for the Handley Page Hampden Mk.I serial AT191 coded EQ-A from No.408 (Goose) Squadron RCAF.
It consists of a blue white metal pole with an orange bomber silhouette on top. A plaque is mounted with the following text:
On the 1st July 1942 at 22:58 hrs, Handley Page Hampden AT191, a twin-engine bomber of No. 408 Squadron RCAF, took off from the homebase RAF Balderton to the target Essen. The airplane was shot down above the IJsselmeer by a German nightfighter. The Hampden crashed into the IJsselmeer near this location, all four crewmembers got killed.


Piloot
Pilot Officer
William Frederick Dixon Charlton
Aged 22
Navigator
Pilot Officer
Cyril Ian Andrew Sandland
Aged 20
WOP/Air Gunner
Flight Sergeant
Frederick John Ernest Womar DMF
Aged 23
WOP/Air Gunner
Sergeant
Alfred Marland
Aged 21


Charlton lies buried on the Algemene begraafplaats in Harderwijk. Sandland, Womar and Marland lie buried on the Oud-Leusden cemetery in Amersfoort. Womar had served with No. 144 Squadron where, the 17th January 1942, he was awarded his Distinguished Flying Medal (DFM) for bravery.
Allied crash locations in the Netherlands 1939-1945
On this digital map you will find information about crashed aeroplanes that crashed in the Netherlands during the Second World War.
Serial- and codenumbers, the crews, locations, targets and a short description of the cause of the crash.
An update will be made on a regular base.
If you have any information please contact the designer Jan van Lohuizen.
Jan.mrt69@gmail.com

Click On the picture below to visit the site
Memorial unveiling ED771 29-04-2023
Candles at Christmas Eve 24-12-2022
Commemoration 12-11-2022
Candles at Christmas Eve 24-12-2021
Commemoration 13-11-2021
Miscellaneous
Book 'Failed to Return' Revised Edition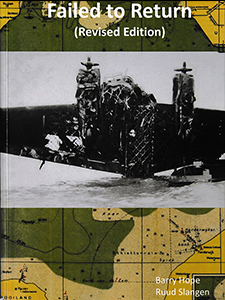 After the first edition of the book in 2021 more research took place and new facts have been found. Documents, particularities and above photos of the men made us edit this revised book.


To stand in front of a Commonwealth War Grave and read the headstone or read a name on a war memorial or commemorative plaque is one thing, but to understand the reason and circumstance why a name is there is another matter. It is hoped that the reader will want to ask the pertinent questions of 'What, Who, Where, When Why and How?' Early in 2020 an email was sent to the Netherlands. Mr. Barry Hope an archivist and author had heard that a Dutchman was doing research on 45 fallen airmen that lie buried near his hometown. Barry was very interested, having written a number of books about Squadrons that were part of Bomber Command that made bombing attacks on Germany and occupied Countries during the Second World War. The email resulted in a co-operation and a plan to create a book on the fallen airmen... As far as Barry knew, this was going to be first one of its kind, the facts not only of the individual airmen, but the facts of how they are there; probably the first of its kind about Allied Airmen's war graves not only those interred in the Netherlands but of any cared for by the CWGC. A boyhood dream was about to come true. The book acknowledged with the 'Forword' being written by Lieutenant-general J.D. Luyt - Commander of the Royal Netherlands Air Force.


The book is available to order! A truly worldwide international effort by a Dutch veteran and an English civilian, a combination of many years of research, compiled together by two researchers in several months via telephone and video calls… Printed in the UK, the facts can be verified having been established and analysed from M.O.D. Documents and the CWGC.


The reader must be aware, the books detailed Information held within the covers can and may well be added too, new evidence from the individual families and M.O.D. documentation may well be discovered adding to the facts so far discovered. However, the authors made the choice to publish. A book, written as a tribute to the 45 airmen that lie buried on Oostergaarde Cemetery in Harderwijk, the Netherlands. A tribute to these fine young man and their relatives. Relatives that were prepared to share their information. Barry and I are forever grateful for this.
If you have any questions, remarks, additions etc. do not hesitate to contact Barry or me.


Lest we forget…


Regards,

Barry Hope,
Ruud Slangen,


Contact details

Stichting
We Will Remember
Secretariaat
Zeggemeen 92
3844 RR Harderwijk


KvK-nummer 82412588